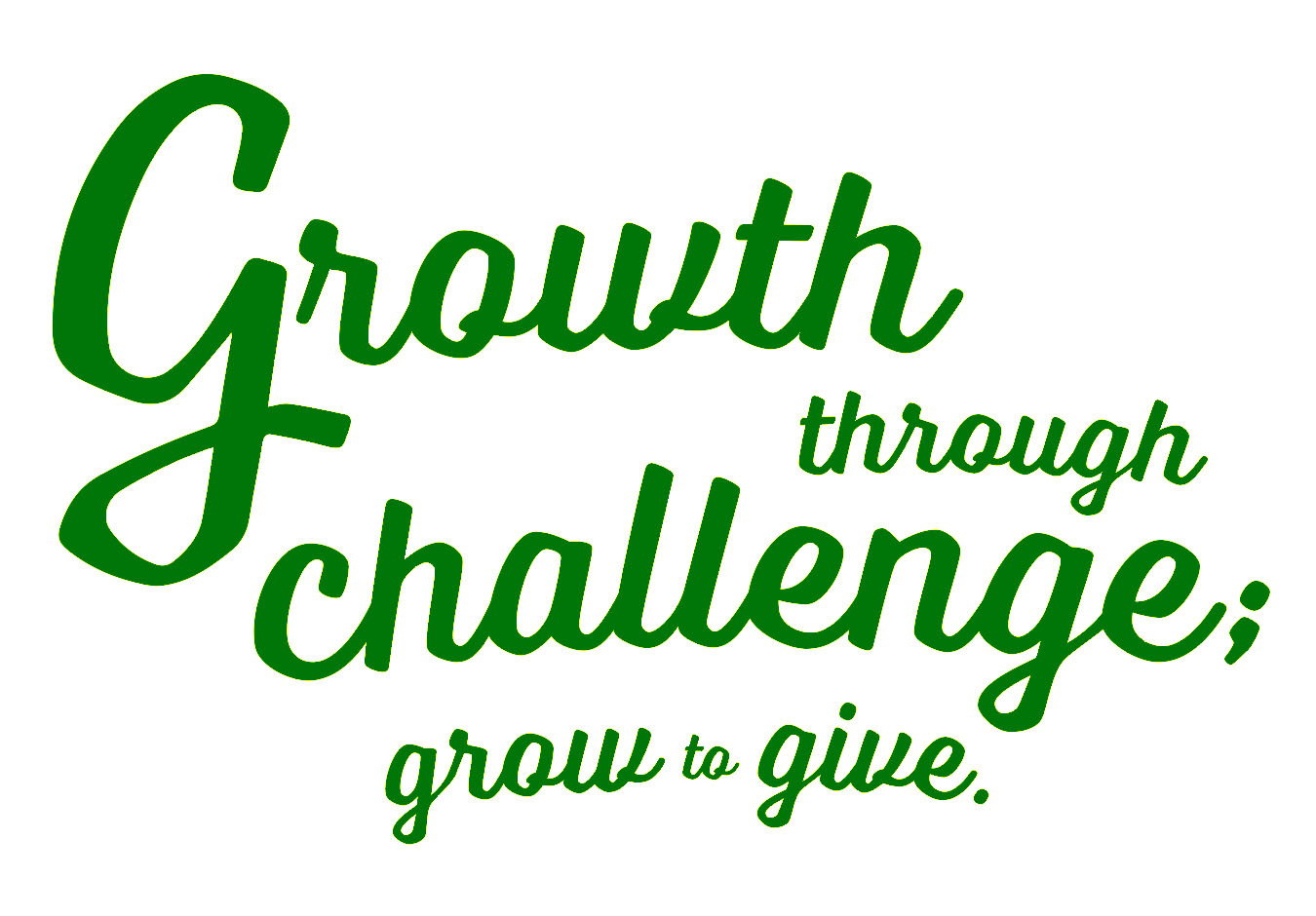 School Motto
Mission
At Learning Tree International School, we believe in raising global citizens with a growth mindset. We are committed to fostering empathetic and responsible life-long learners who contribute to their global community .
Vision
We aspire to contribute to society by providing high-quality , accessible education, regardless of cultural or socioeconomic background. We will continue to respect positive elements of our students' countries of origin while looking for internal and global inspiration to innovate.
Values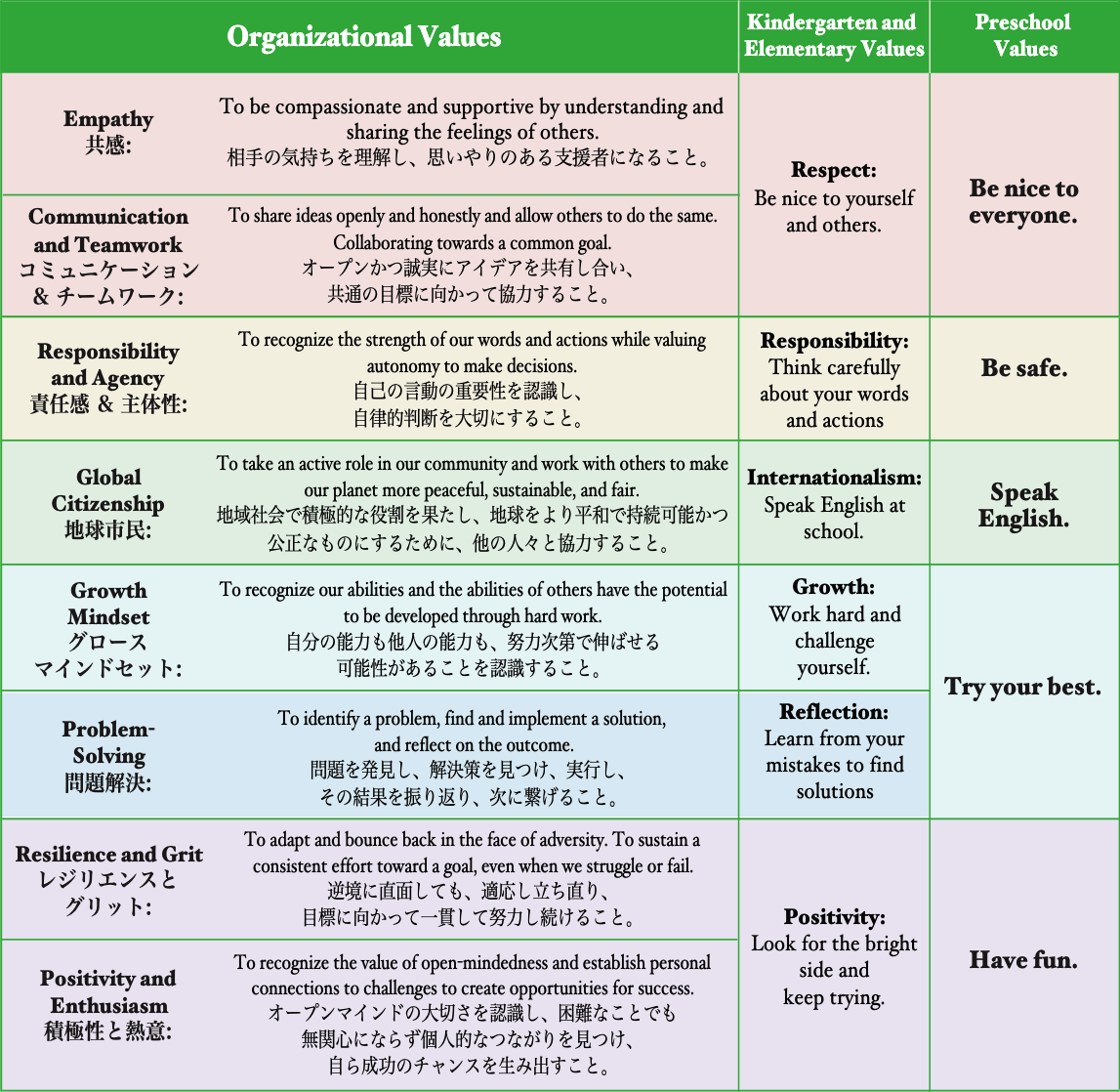 Philosophy
We feel that it is most important for a child to understand how special they are. We help them do this by showering them sincerely with love in the same way that we shower them with English, in a safe and secure environment. We believe that this is the first step in helping them to recognize how precious their family, friends, teachers and the whole of nature are. We feel that by finding out about the customs and cultures of other countries and trying to understand and accept differences, they come to know the wonderfulness of their own country and also develop a global attitude. English is an essential part of this, providing a tool to express their feelings and thoughts. Throughout their education at learning tree, we want them to courageously engage in any situation while still enjoying themselves. By keeping a positive mind and remembering to be kind to others, we hope to further expand their endeavors and sustain their pure-hearted dreams. For these reasons, we maintain the following three principles:
We want our students to have fun, because happiness is essential for everyone's emotional well-being.
We want our children to work hard now, so they can benefit in the future. Through this hard work, our children will be able to expand their windows of opportunities, which will allow them freedom in the future. Furthermore, we desire to equip them with the tools necessary to overcome the obstacles that they might face in life.
Finally, we want the children to learn to become a part of the community. They should use their positive attitude and knowledge to impact other people's lives. By helping others, the students will find joy and fulfillment. We hope that we can help our students create positive dreams for themselves and have the ability to make these dreams come true in our global community.
Goals of the School
We believe that good childhood experiences will help a child grow to become well-adjusted adults. We want to create a good positive experience for all of our children. Our goals include:
To create a safe learning environment for all of our children.
To help our children discover that learning can be fun.
To cultivate in our children a love of language and learning.
To assist our children in finding their own talents and strengths.
To guide them and positively teach them how to act in certain situations.
To provide the children with a new language which gives them a new way to see and communicate with the world around them.
To encourage our teachers to improve their skills and give them space to have their own ideas.
To continually strive to create a better school, because we can always do more to help our children learn.
School Methodology
Here at Learning Tree, we believe that the time before your child starts attending school, while his or her mind and personality are already rapidly developing, is extremely important. We aim to provide a thorough, attentive, "at home"-style environment with a low student-to-teacher ratio, that will foster not only the assertiveness and self-expression often associated with Western education systems, but also the manners, modesty and gentleness of Japanese society. Moreover, we aim to create an environment that thoroughly advances your child's speaking ability, with the goal of making your child functionally bilingual.

In order to achieve these goals, we are implementing the following methods and policies.
Our teachers come from a variety of backgrounds and are all experienced, well-versed native English speakers. Our classes are held entirely in English, but are designed to be beneficial and enjoyable to all students, whether or not they are native English speakers.
Our main classes are structured around a variety of themes and topics that are familiar to your child. Furthermore, our English classes (Reading and Speaking) are divided by levels rather than age, to ensure progress regardless of your child's current ability.
We maintain low student-to-teacher ratios to ensure an attentive and responsive environment for your child. In all but our English classes, we organise our classes and grades system in the same way as Japanese schools – nenchou (highest), nenchuu (middle) and nenshou (lowest), as well as sainenshou (for two- to three-year-olds), and each class has its own dedicated teacher. Our youngest classes also have qualified (either in Japan or overseas) teachers or assistants to help with mealtimes and toilet training.
Complementing our Theme and English classes, we aim to provide a balanced and complete education system by also covering mathematics (up to elementary school grade 1 level), science, social studies, physical education and music.
We aim to maintain an up-to-date curriculum, and to provide classes that are not only enjoyable but also inspirational and imaginative, and that are "hands-on" and encourage participation. Our classes employ a variety of educational techniques such as gestures and demonstration, experimentation, and research. We also include a large variety of teaching media such as pictures, music, and physical activity to create an environment suitable for all.
We include art, music and other aesthetic faculties in our curriculum. Each week children participate in ukulele class and Hula class. We also hold a variety of extra-curricular activities such as excursions, Sports Day, concerts, Halloween and Christmas parties, and school camp. All of these events are conducted in English. Furthermore, between 2 and 3pm weekdays, we also run our Extra Curricular Activity Program (ECAP), including activities such as piano lessons, swimming classes, sports and Japanese lessons, each held by teachers specializing in the field.
We also hold After School and Summer School English classes in order to provide further English education into the future. Primarily aimed (but not limited to) at elementary or middle school students, we hold a variety of classes tailored to your child's English ability, including science class, current events and newspaper classes to name just a few. By focusing on skills such as presentation, discussion and essay writing, students are able to develop their English ability and can aim for a proficiency close to that of Eiken level 2 by the end of their first year of elementary school, and level Pre-1 by the time of graduation, which is extremely beneficial for their school entrance exams.
Guiding Statements
Learning Tree strives to be a leader in international education. Our core values inspire us to pursue excellence and to break ground wherever possible.
We encourage and nurture a growth mindset in our staff and organization to lay the groundwork for education and act as role models to instill the same mentality in our students.
We recognize the power of positivity and grit and its role in learning from mistakes and growing as social contributors.
We recognize our responsibility to prioritize the safety and well-being of our students, staff, and communities.
We are ambassadors for international education and its role in creating intelligent, compassionate, global citizens.
We encourage everyone from teachers and administrators to parents and students to offer regular feedback on our programs because great ideas can come from anywhere.
We have the open-mindedness to accept criticism while maintaining the confidence to defend policies that we have data and experience to support.
We believe that we share in a partnership with parents, enhancing education through the support they provide. We partner with families based not on financial or demographic criteria but the supportiveness and commitment towards their child's lifelong learning.
We maintain high-quality education and adaptability through careful and deliberate self-assessment, professional development, and open communication channels.
We acknowledge that the higher purpose of our growth is to become better providers for society. We strive to give more than we take and to apply our energy towards the greater good.
School Policy
Here at Learning Tree, in order to make parents, students, staff and teachers into a community that helps and supports one another, we have adopted the following guidelines as part of our school policy.
We believe in the importance of only accepting families who are satisfied with and approve of our school policies, and whose own family policies are in agreement with ours. This way we believe we can build a trustworthy relationship with each family in our community.
Every term we hold parent-teacher conferences, which are our best chance to talk about the children's achievements, attitude, level of understanding and future goals.
Our schedule, detailed curricula for each class, class and event photos, and school letters are conveniently placed on our school's web page. Any important information about what is happening at school is placed there for easy viewing, and is updated regularly.
For a better appreciation and understanding of the children's progress in class, we hold an "Open Class" once a term, we give each child a progress test at the end of each term, and we write and present report cards.
Learning Tree's "Family Support System" is available. This system is aimed at people who, due to other commitments, cannot take their children to an event, or to or from school on time. Joining and using the system is purely voluntary, however, as more people join we hope to create a more positive and helping community for everyone.
As always, thank you for your continued support of Learning Tree. Your support keeps our school improving.
Extra Care for students
While we rely on our teachers to provide for the well-being of our students, we do understand that there are times when we must consult a professional. We care about the progress of our children whether it is their emotional or physical progress. If a situation arises where we feel that an expert must be consulted, we have an on-call school counselor that can provide assistance.
In addition, if an accident or health related issue occurs, we will immediately call St. Luke's International Hospital for advice.○ For security reasons, we have a video interphone, and we only open the door for people who have appointments. In addition we have asked the neighborhood police to patrol the area.
We have installed reverse osmosis water purifiers that can remove 96-99% of radioactive substances from water.
We check the radiation level in the air before we take the kids to the park. (Above 0.30microSV/hour-no outside play)
The policy for Learning Tree healthy lunch is below:
No preservatives
All ingredients are from Hokkaido or the western part of Japan. If we have to use ingredients from the Kanto area, we will only buy food tested for radioactive substances that have a level not more than 50 Bq per 100kg. However, usually it is hard to tell, so we are planning NOT to include anything from Kanto area for now.
Organic or low chemical use
All natural seasoning and condiments
High quality oil, either olive oil or natural rapeseed oil
Uphold the natural flavor of the ingredients
Less animal meat and more soybeans, seaweed, fish and vegetables, including root vegetables
Fish is all natural (Not farm raised), Chicken and Pork are free range, with natural food (non biologically modified), without any hormone injections or antibiotics.
Food temperature is kept at over 65C and served within 2 hours after cooking.
Water is filtered by reverse osmosis.
We cannot accept any requests to remove certain foods from the lunch. This is to prevent serious accidents like anaphylactic reactions.
Monday:Fish and vegetables
Tuesday:Vegetarian
Wednesday:Chicken or Pork and vegetables
Thursday: Vegetarian
Friday: Fish and vegetables