Curriculum
For Full-time
Full-time elementary program follows an extensive and diverse curriculum, including practical life skills and multi-cultural understanding. Additionally, for the morning elementary program, our STEM program helps foster digitally literate individuals through typing, programming, and other computer skills. Students learn to master fundamentals and express their creative minds through our multifaceted arts program which encompasses fine arts, performance arts, martial arts, and music. Teaching and learning are differentiated according to each student's unique abilities and interests through academic centers and individualized practice.
Timetable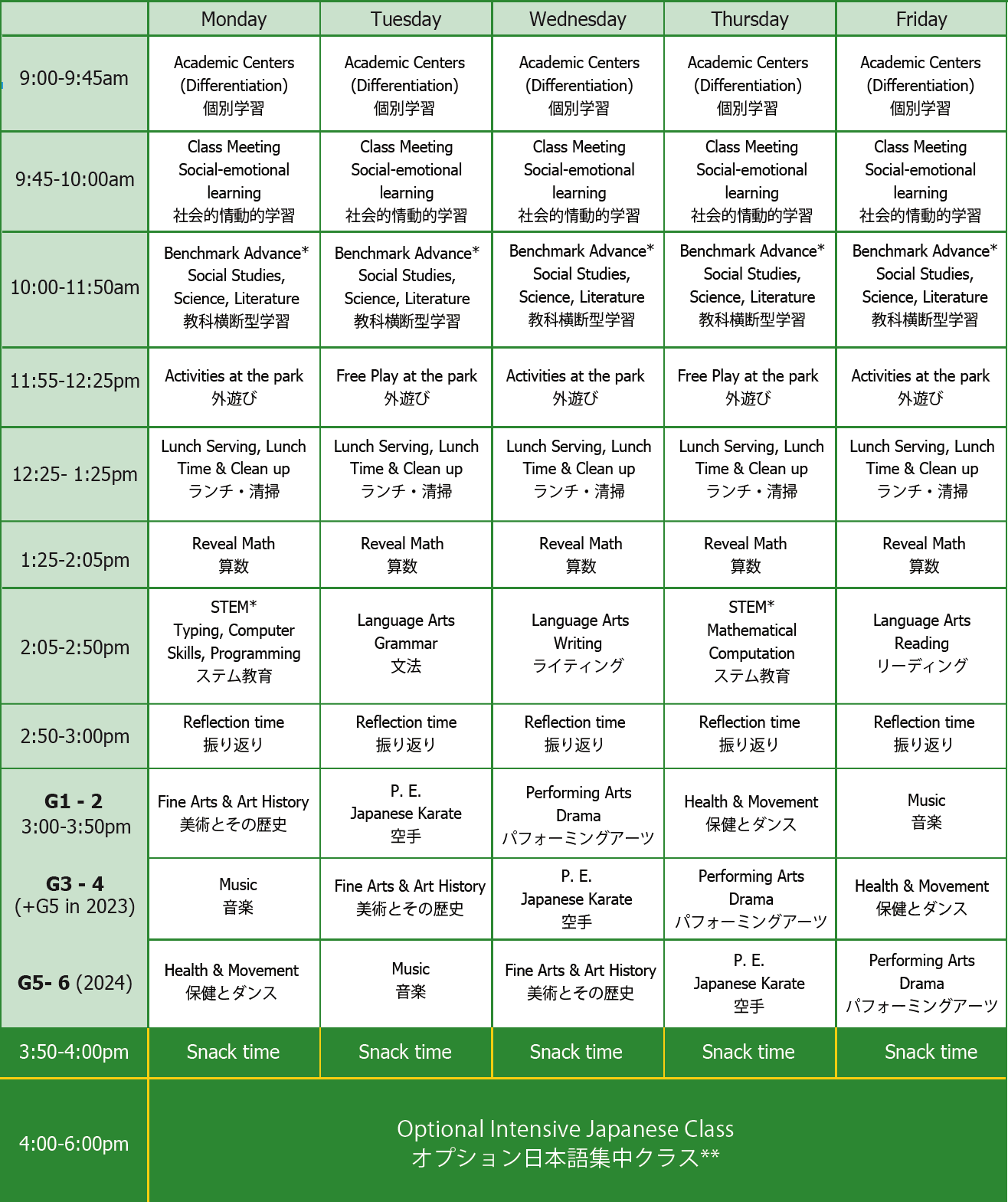 **We will use Japanese elementary school textbooks in small groups to reproduce Japanese math, life environmental studies, science, and social studies, in small groups. Z-kai workbooks are also used depending on the student's level of understanding. Please see "8. Optional Classes" for more details.
01. Social-Emotional Learning

Social and emotional learning is an important part of education and development. By using the Collaborative for Academic, Social, and Emotional Learning (CASEL) framework, we are able to create an environment where the social and emotional needs of the students are prioritized alongside their academic growth. Each week, we will learn about and discuss different topics related to self-management, self-awareness, social-awareness, relationship skills, and responsible decision-making. Students will learn how to navigate their emotions while also being considerate of the feelings of their peers. They will learn how their actions and decisions affect their day-to-day lives.
02. Benchmark Advance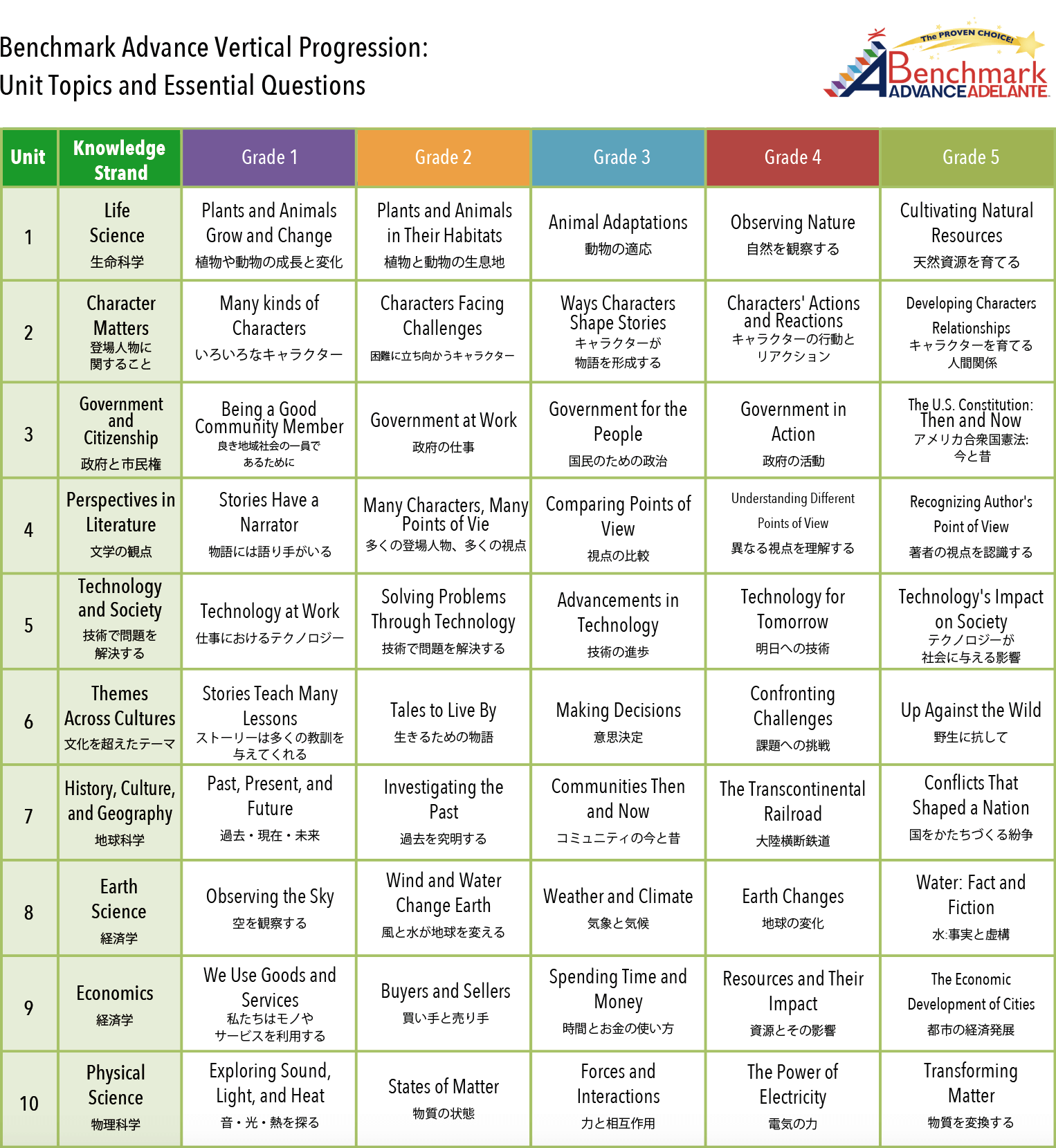 We have adopted the well-established Benchmark Advance curriculum*, which believes in learning through reading, writing, and discussion. In this interdisciplinary program, the focus areas – literature, science, and social studies – work cohesively with language arts to help the students grow in multiple areas of knowledge. Students engage in critical thinking and discussion, building perspectives and developing content knowledge. Grade by grade, knowledge grows. Students begin each grade with essential background information, then expand their topic knowledge and vocabulary throughout the year. The Benchmark Curriculum is aligned with the American Common Core Standards and provides space for real-world perspectives. The alignment with authentic educational situations captures the minds of learners. The students spend 3-4 weeks on a unit,
exploring multiple texts around a central idea. As they progress through each unit, students will work on inquiry-based assignments to demonstrate the skills they learned. Science experiments, activities that utilize research and presentation skills, as well as art and craft exercises foster hands-on experiences with the unit topics.
*https://www.benchmarkeducation.com/benchmark-advance-adelante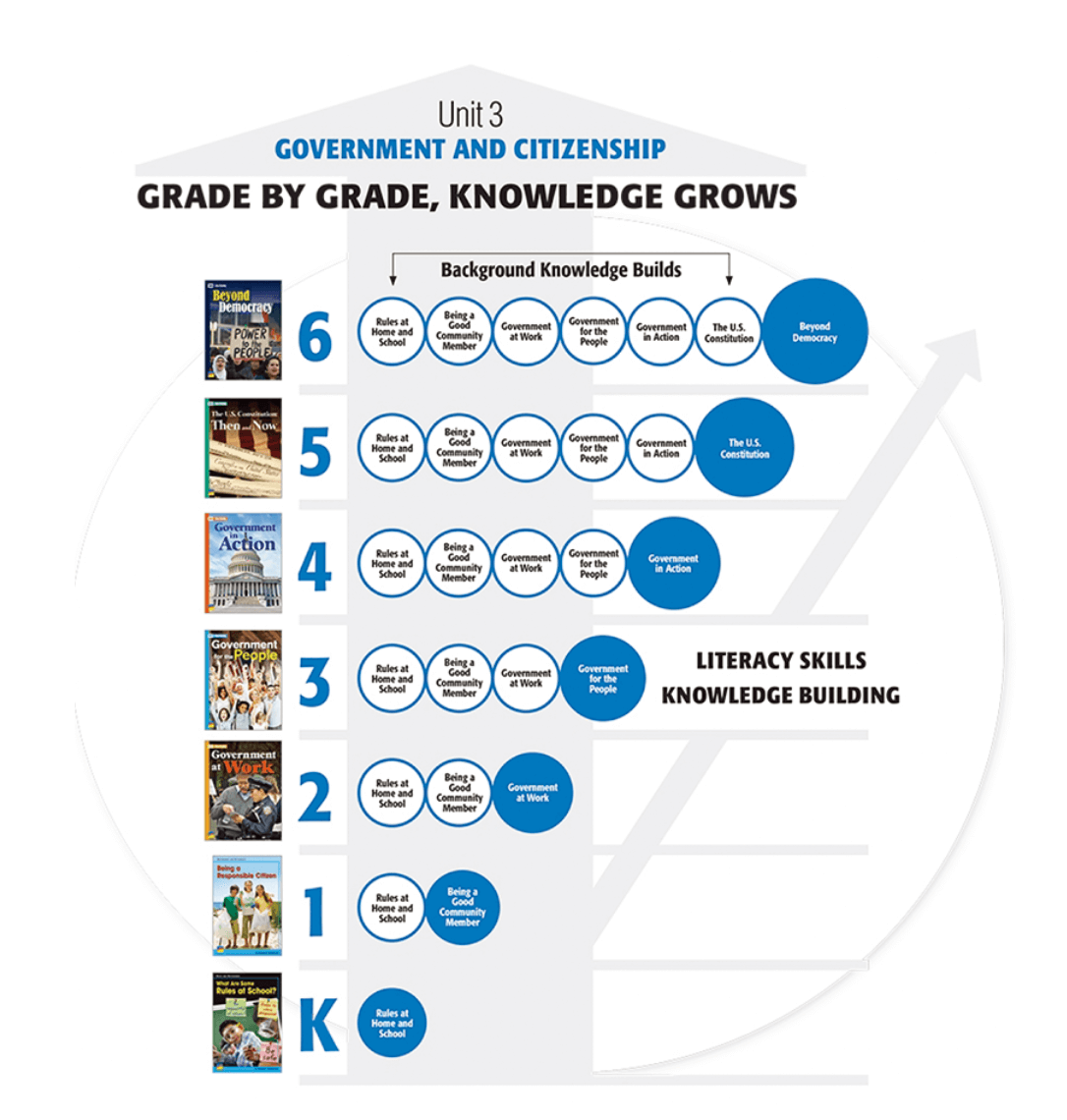 03.Reveal Math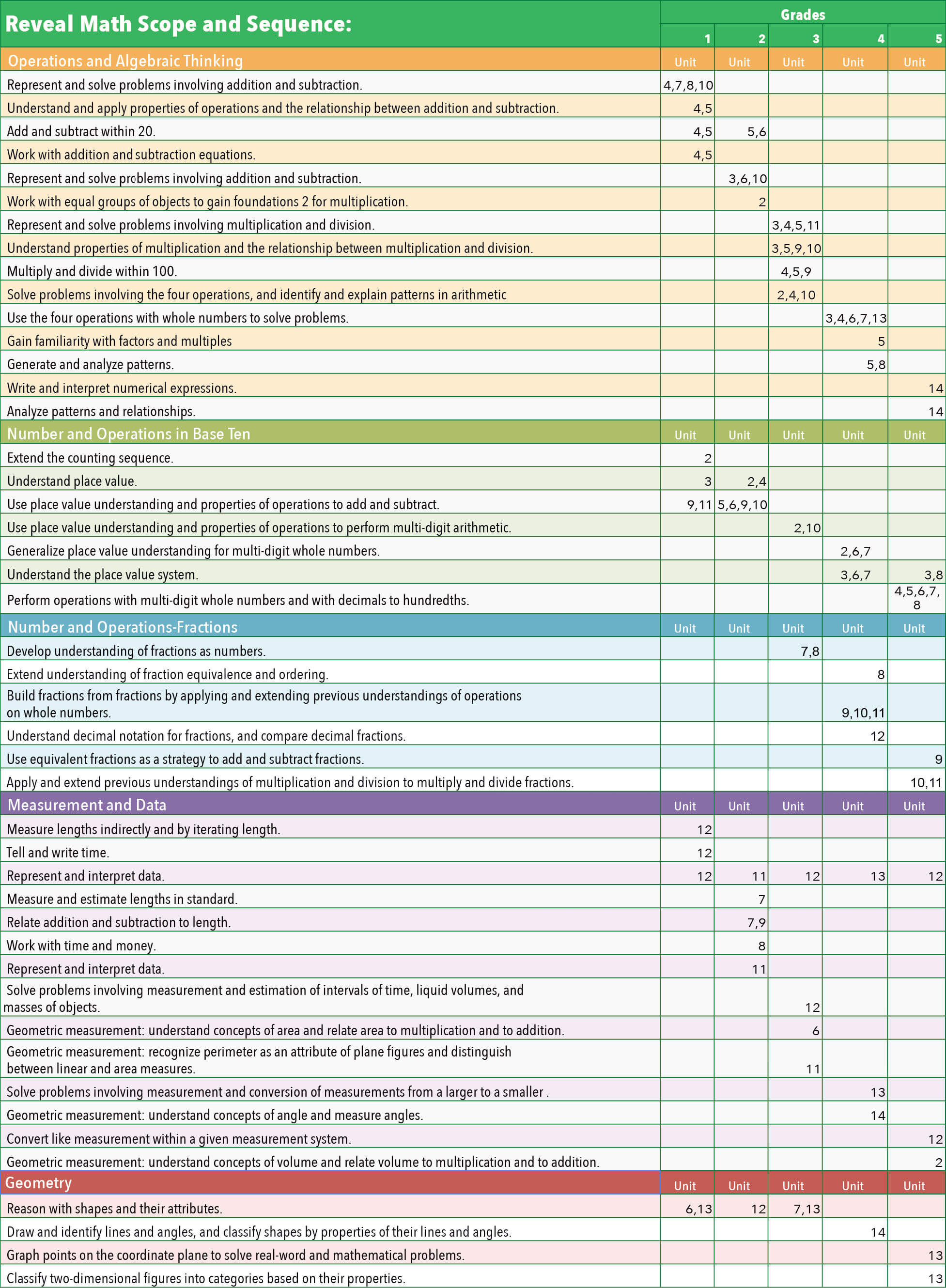 We utilize the Reveal Math curriculum and methodologies, which is based on the American Common Core Standards. The insightful instructional resources aid in effective differentiation and the promotion of a growth mindset. Students explore their curiosity with mathematical examinations and discovery that deepens conceptual understanding. The program has a variety of possibilities with purposeful technology that creates an active classroom experience. Each new skill is introduced with sense-making routines and a focus question to help students develop their own mathematical ideas before moving to the abstract concept. Teachers and parents will understand the student's progress through a range of assessment tools that the Reveal Maths curriculum offers.
Academic Differentiation Centers
(9:00-9:45)

All students develop in different ways and paces and we understand the importance of differentiated instruction. To start our day, the students will have the opportunity to work on academic skills at a level appropriate for them. The teacher and students will decide which subject areas they will focus on that day. They may choose from various activities, including bookwork, digital resources, worksheets, and hands-on manipulatives.
Once a Week Japanese Lesson
(9:00-9:45)

During this period we will offer a Japanese lesson once a week. This lesson will focus on conversational Japanese as well as hiragana and katakana reading and writing practice for students still learning Japanese basics. Students who are native or fluent can continue working on other academic skills at this time if they'd like. More intensive Japanese studies will be offered as an option later in the day.
Park Time
(11:55-12:25)

Every day, students will go to Kiba park to maintain health and wellness. On Mondays, Wednesdays, and Fridays, students will be led through a physical activity focusing on physical education by their homeroom teacher. On Tuesdays and Thursdays, students will have free play at the park to refresh themselves and also build relationships with their classmates. Students will be monitored by their homeroom teacher as well as administrative staff for safety.
Lunch Serving, Lunch, and Clean-up
(12:25-1:25)

Learning Tree International School provides organic, healthy food to our students daily. Our nutritionist will help students take turns serving food to their classmates, and students will clean up after themselves. By following this Japanese schooling tradition, students will develop skills that will help them take active roles in their community and be responsible for their daily lives.
STEM
(2:05-2:50)

Science, Technology, Engineering, and Mathematics (STEM) is becoming more and more critical for our high-tech society. Learning Tree focuses on enhancing logical thought processes through hands-on activities such as learning about computers, coding, programming, robotics, design, and science experiments. These activities allow students to develop a problem-solving mindset that will help them succeed as global leaders in the future. This STEM course challenges students to gain solid tools to better their daily lives by focusing on computer skills, coding, and programming to help foster the next generation of innovators!

1. Typing, Programming, and Computer Skills
The Typing, Programming, and Computer Skills class provides students with the opportunity to familiarize themselves with complex computer skills and learn programming with guidance on Scratch. As the grades go up, students will use micro:bit (https://microbit.org/) to create interactive and visual programs in association with fun art and eventually to solve real-life issues. Essentially, this course will allow students to build fundamental logical skills and foster their ability to use the computer on an interdisciplinary level.

2. Mathematical Computation Skills
Learning Tree emphasizes the importance of thorough fundamentals as well as math concepts and their use in the real world. In our Mathematical Computation Skills class, students will work on math strategies catered to their individual levels. The students will complete math activities aligned with the common core standards. As they master these techniques at their own pace, they will be able to move on to new skills. Using digital resources such as Khan Academy, teachers can continuously assess their students to ensure that they are constantly being challenged but at a level that is appropriate for them. Our goal for this course is to increase each student's mathematical fluency and allow them to gain confidence in their abilities.
Language Arts
(2:05-2:50)

Our Language Arts classes give students the opportunity to further develop their grammar, writing, and reading skills. While all of these skills are worked on during our Benchmark Advance classes, these periods give the students time to work extensively on specific skills that are catered to their levels.

01. Grammar
In our Grammar course, students will learn about different grammar points. This helps them improve not only their writing skills but their speaking skills as well. Each lesson will focus on one grammar point, for example, using apostrophes or adverbials. The students will then do activities that will allow them to practice these skills to help them achieve mastery. During this period, the teacher can access which grammar points different students have difficulty with by using resources like Quill. They then will give differentiated assignments that ensure that each child can get what they need from the lesson.

02. Writing Workshop
Writing workshop is a framework that aims to make lifelong writers out of students. It is a student-focused method of writing that has the students write frequently on topics of their choosing. Each session starts with a mini-lesson about a specific skill such as punctuation or dependent prepositions. The students will then have independent writing time where they will work on whatever piece of writing they like. These can be topics from their own imagination or from a variety of prompts. They will try to take the skill learned from the mini-lesson and incorporate it into their writing. During this independent writing time, the teacher will have conferences with the students to check-in and give feedback and suggestions. The students will also have peer conferences to learn how to give constructive feedback and gain new ideas. When a student finishes, they will edit and publish their work and immediately begin writing something new.

03. Reading
We believe that reading is an important foundation for language development. Literacy increases creativity, cognitive development, concentration, and a variety of other skills. To help foster students who are excited about reading we dedicate a class period to reading chapter books together. Though we are always reading short stories throughout the day, having the time to read a longer piece with a lengthy plot is exciting and different for the students. Not only will we read the book, but we will also do various reading comprehension activities. These can range from chapter quizzes, to crafts, to games, or even book reports. We hope that our students will find joy in reading and become independent lifelong readers.
Reflection 振り返り
(2:50-3:00)

During our reflection period the students and teachers will review their day and discuss what's coming next. Taking time to reflect on things that went well, think of what can be improved, and plan for the future are important steps in problem-solving. By developing these skills the students will be able to ensure they are always learning and improving. This is also the wrap-up of their day with their homeroom teacher as they transition into their afternoon lessons.
Arts Program 芸術プログラム
(3:00-3:50)

During this period of the day, students are exposed to the expansive world of Arts! Learning Tree International School designed these classes for our students in different art forms to gain tools to create arts to express themselves. The experience of expressing themselves through creation will give them competence and a healthy way to well-being.

01. Fine arts and Art History
Students will cultivate an attitude to sense the beauty and charm of artwork. They will first learn about the foundations of art (drawing, painting, pottery, sculpture) evaluated highly through art history and the medium and techniques used in various works. Next, students will try their hand at recreating their work, called master works. These steps give students the history and knowledge about the art world and allow them to experience multiple styles of creative expression. Finally, students will have fun making their own art pieces inspired by the masters! The joy of creation will enrich students' lives and motivate them further to use their creativity in their future work.

02. Music
Music education is part of Learning Tree's balanced curriculum which aims to develop the whole child. Music contributes to the wider curriculum in a myriad of ways. While listening to music for pleasure or for specific elements and patterns, the student develops skills in memory retention, multitasking, and concentration that are necessary for understanding in all subjects. During the process of making music, the student experiences satisfaction and a sense of achievement as they perform or create, solo or as part of a group. Students cultivate technical and artistic skills, involving gross and fine motor development, as well as skills of self-discipline that are essential to self-expression.

03. Physical Education: Health, Dance, and Movement
Through our Health, Dance, and Movement course students will learn the importance of a holistic wellbeing, personal health, and physical development. A variety of dances, fun games, and activities are designed to help students develop their motor skills, mobility, endurance, and teamwork skills. The students will be able to show their mastery of what they've learned through scrimmages and self-created performance pieces. This will allow them to heighten not only their physical strength but their creativity as well. Students will develop the skills needed to maintain supportive physical and emotional environments. This will help them make healthy choices throughout their lives.

04. Martial Arts as Physical Education
Karate-do, a traditional Japanese martial art, is incorporated into physical education. Martial Arts are considered to be a process of training the body as well as refining the inner self and building character. The "do" in Karate-do refers to a "process," which is also called a way of life. Our Karate classes avoid physical contact and do not teach in a fight-or-flight, attack-attack attitude. Instead, we teach Karate in the concept of courtesy and the way to overcome one's fears. Therefore, lessons will consist mainly of Kata (form) practices. Through Karate, students will learn to face their own mindset and overcome difficulties when faced with a tough situation. Karate-do begins and ends with a bow of gratitude. In terms of the physical aspect, repeated practice will strengthen your core and increase your flexibility.

05. Drama and Performing Arts
Students will develop the knowledge and skills to understand the elements of drama and appreciate the performing arts. Students will also take on roles and make performances collaboratively. In spring term, students will begin by learning the basics of dramatic performance and familiarize themselves with the stage. We will start preparing for a play performance in the late spring term and continue through the fall term. The fall play is a term-long project in conjunction with the music, art, and dance classes. In winter term, students will collaborate to write their own script and act out the play performances. The skills developed in drama classes are transferable and help the students build awareness of space, emotional awareness, collaboration, and public speaking skills.
Optional Intensive Japanese Studies
(4:00-6:00)


https://www.zkai.co.jp/el/e/subject/?cd=MBW
On Tuesday and Thursday, students will have fun reading stories aloud and practicing writing in Japanese. Reading aloud is an effective method to enhance fluency and comprehension of the language, especially Japanese, which has several ways of reading the same character. Also having many characters in the language, writing practice is required to be literate in Japanese.

Students have the option to take these Japanese classes either three days a week or five day s a week. The goal for students is to master foundation skills that would be the base for students' next step to get into a junior high school, with fewer hours in a small group compared to a Japanese public school with many hours in a large group.

Japanese Language Kokugo, Math, Life Environmental Studies (Grade 1 and 2), Science and Social Studies (Grade 3 and 4) classes will be taught by experienced Japanese teachers who have been homeroom teachers at public and private elementary schools for many years. Using official Koto-ku selected textbooks, the classes will be like Japanese elementary school classes while still maintaining Learning Tree's values. These courses will be a valuable time for students who study in English during the day to develop their Japanese language skills as well as internalize Japanese culture. These classes are also designed to provide a foundation for students who will be taking the entrance exam for junior high schools in the near future using English, Japanese, and Math. However, we recommend that students who wish to take entrance exams for challenging schools with all four subjects attend a specialized cram school such as SAPIX in addition to this program.

For 5th-grade elementary school students and above, "Jyuken Support" is available. These Japanese and Math classes are taught by students from the University of Tokyo or Waseda/Keio who have experienced taking rigorous entrance exams in the past. The teachers will work with each student closely to meet their needs in writing Japanese essays and Math for the entrance exams.

For students in 6th grade and up who are enrolled five-day a week in Jyuken Support, we also provide support for English essays and interviews for the entrance exams as necessary. Several students who have participated in this class have been accepted to Kaetsu Ariake, Mita International, Nihonbashi Kaichi, Bunshugi, and Hosen. For students who wish to apply to the most challenging schools such as Shibumaku, ShibuShibu, Hiroo, etc. we suggest that they use Learning Tree as their primary school so that they can apply as returnees and as a supplement, they can attend a specialized cram school for returnees.We are honored and humbled to be able to provide support for your child's important future. We look forward to working as a team with parents and supporting the students to find a career path that makes the most of each student's strengths!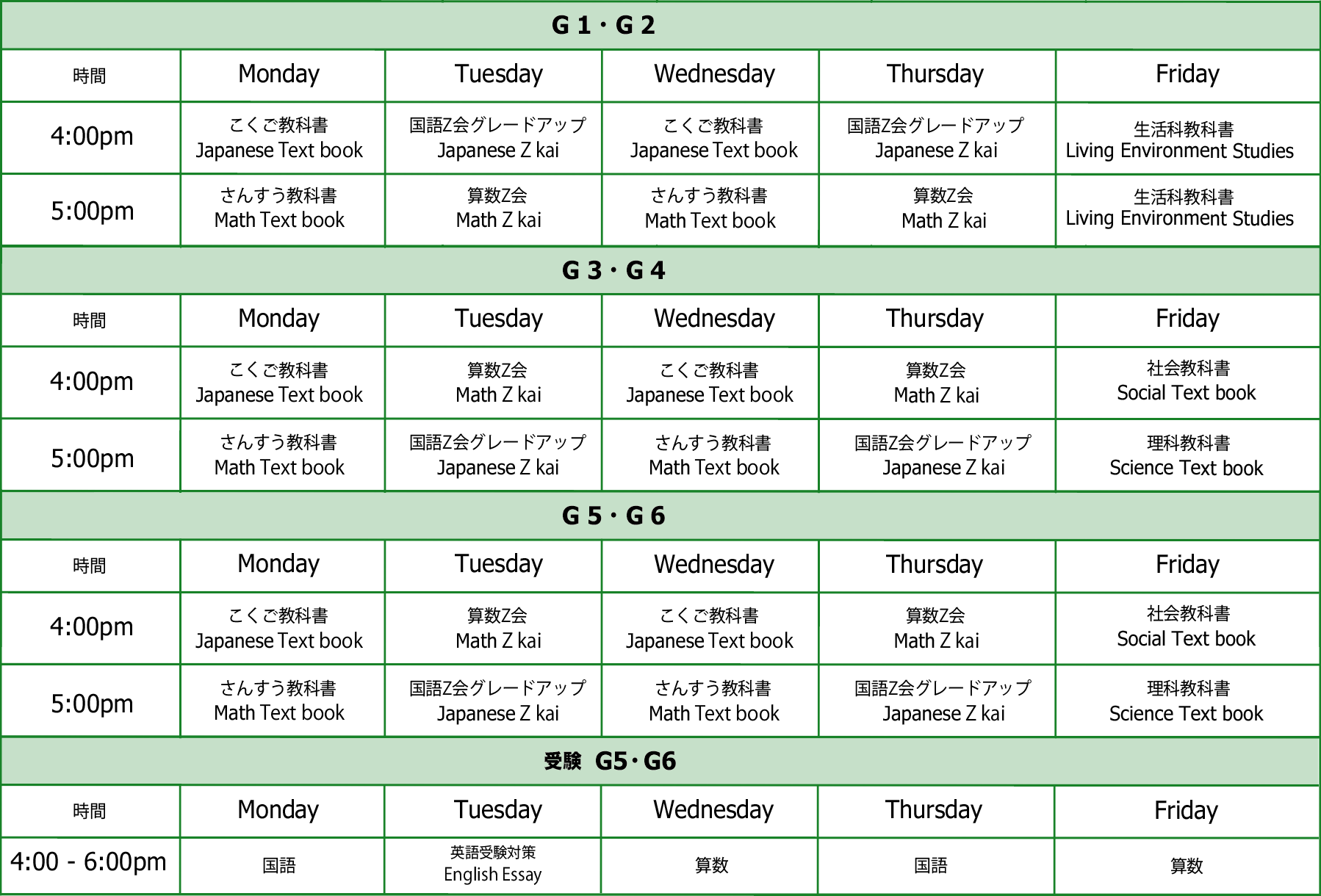 Please check for the latest information, as schedules and groups are subject to change from year to year to best accommodate the number and level of applicants.
Elementary Application for 2024
---