6 months – 2 years old
For this class, we accept children from 6 months to 2 years old with their parents. This is the time when parents and children can come and enjoy music, dance, and play in an English environment. Our program is carefully designed to enhance creativity, sensory and sound recognition. As well as these fundamental language skills, we put importance on emotional development and facial expressions. Continuous and close contact with native English speakers will give children new challenges and chances to interact with others. Not only is this a great English introduction for the children, but also an opportunity for parents to learn how to teach English at home using teaching skills they would learn at our school. Learning Tree provides a fun and exciting atmosphere for both children and parents.
Curriculum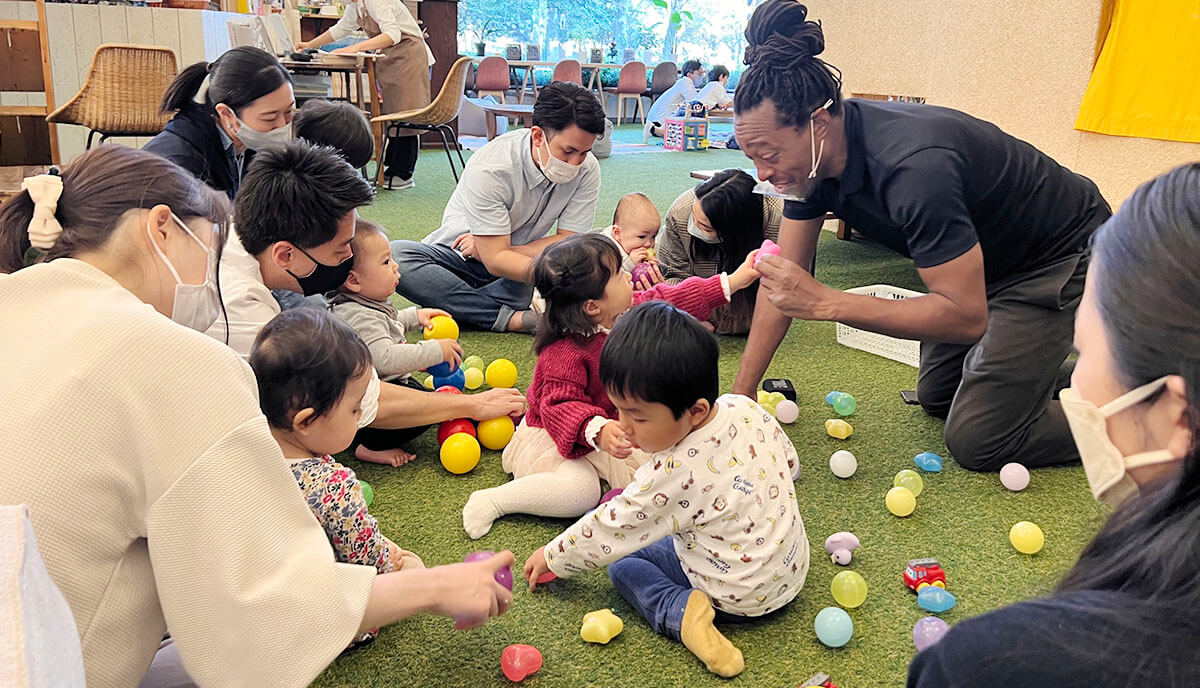 01. Circle Time
This is the time we come together as a group and greet each other. This is an opportunity for babies to interact with the teachers both in the group and in individual settings. Selected song & dance activities will expose the children to English and let them have fun while their bodies move along with the music. Furthermore, our phonics song will develop their sound recognition.
Kiba: 3:50pm~4:00pm
Tsukishima: 2:10pm~2:20pm
Organic Cafe Lulu:11:20am~11:30am / 1:00pm~1:10pm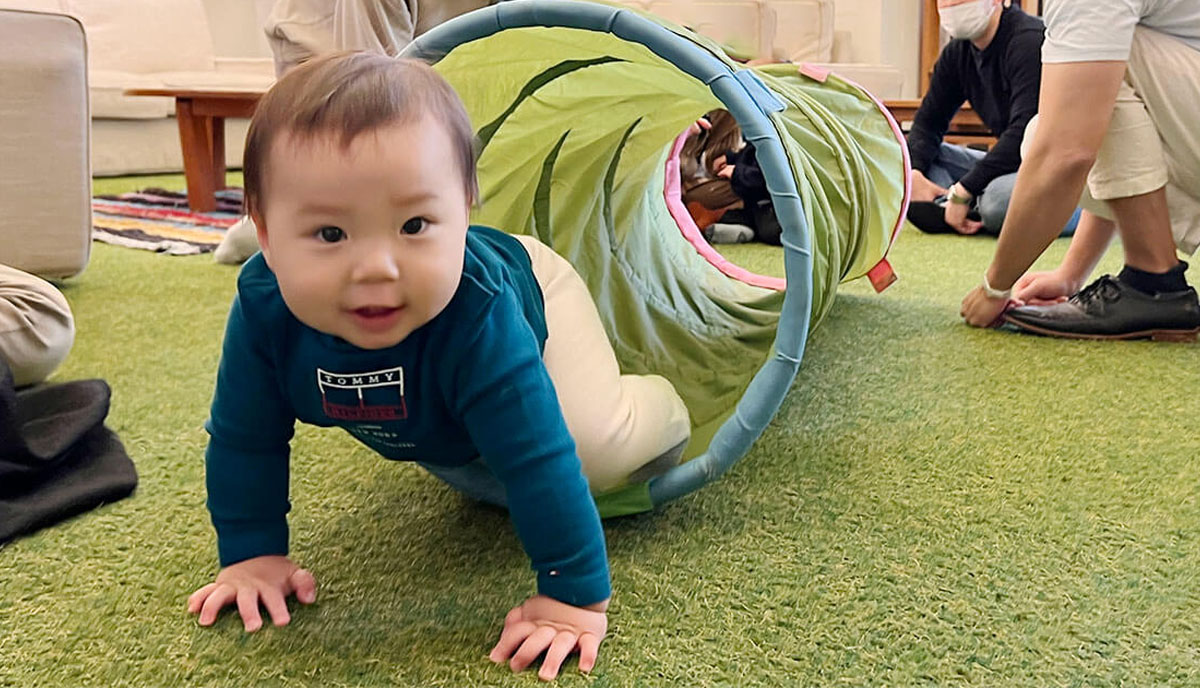 02. P.E.
We have games especially made for babies, for example, "Crawl & Grab," "Baby Obstacle Course," and others. Babies can move their body, feel the excitement, and learn at the same time.
Kiba: 4:00pm~4:10pm
Tsukishima: 2:20pm~2:30pm
Organic Cafe Lulu:11:30am~11:40am / 1:10pm~1:20pm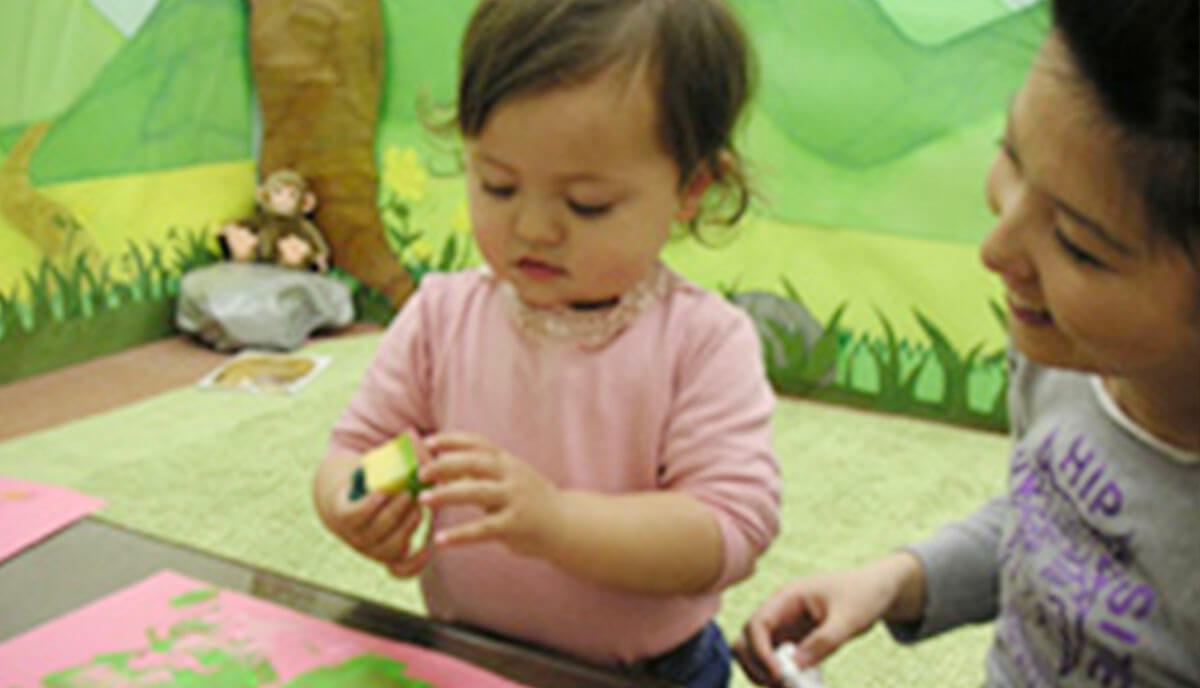 03. Art and Crafts
Babies are just as artistic as we are. We introduce them to a variety of painting techniques, such as sponge painting, finger painting, along with making foot print pictures by dipping their feet into different materials.
Kiba: 4:10pm~4:25pm
Tsukishima: 2:30pm~2:45pm
Organic Cafe Lulu:11:40am~11:55am / 1:20pm~1:35pm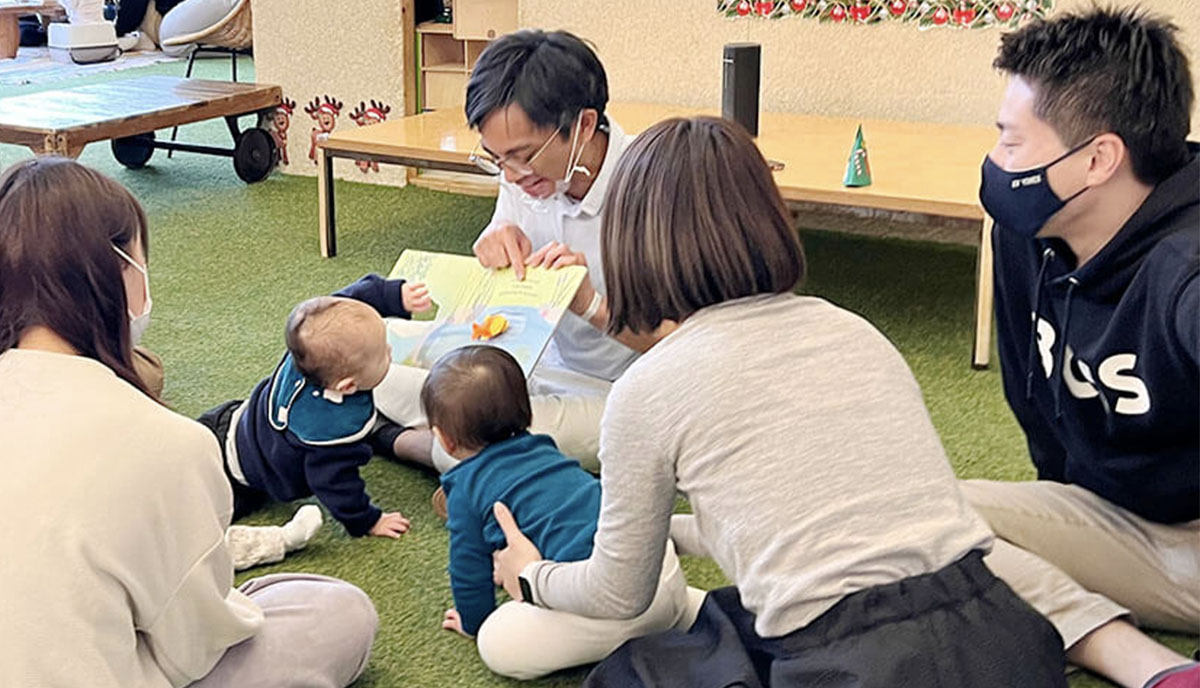 04. Story Time
In a relaxed atmosphere, we use puppets, speaking in English, to get the babies' attention. For Story Time, we read stories that the babies can enjoy with their parents.
Kiba: 4:25pm~4:35pm
Tsukishima: 2:45pm~2:55pm
Organic Cafe Lulu:11:55am~12:05pm / 1:35pm~1:45pm
Overview
---
Informtion
Location
Kiba: 5-6-30 Kiba, Koto-ku, Tokyo 135-0042
Tsukishima: 2-14-12, Tsukishima, 4F, Chuo-ku, Tokyo 104-0052
Organic Cafe Lulu: 5-6-30 Kiba, Koto-ku, Tokyo 135-0042
TEL
Kiba Campus:03-5809-8900
Tsukishima Campus : 03-3536-7890
Organic Cafe Lulu:03-5809-9922
Open
Kiba Campus:3:50pmー4:40pm (Every Thursday)
Tsukishima Campus:2:10pmー3:00pm (Once a month on a Wednesday)
Organic Cafe Lulu:11:20amー12:10pm / 1:00pmー1:50pm (Once a month on a Saturday)
Close
Follow the school calendar
Age Range
6 months to 2 years old / Up to 5 pairs per session
Experience Fee
3,500 yen (tax included)
Entrance Fee
33,000 yen (tax included)
Ticket
27,500 yen (tax included) / 10 times
Admission & Enrollment
For prospective students, the parent needs to come with the child to take a trial lesson(3,000 yen per session with organic tea or cider and juice for children) and discuss their educational goals.
We will explain the details of the admission process directly to you.
School Tour/ Entrance Interview
---